Posted By: Agnes | Sep 07, 2020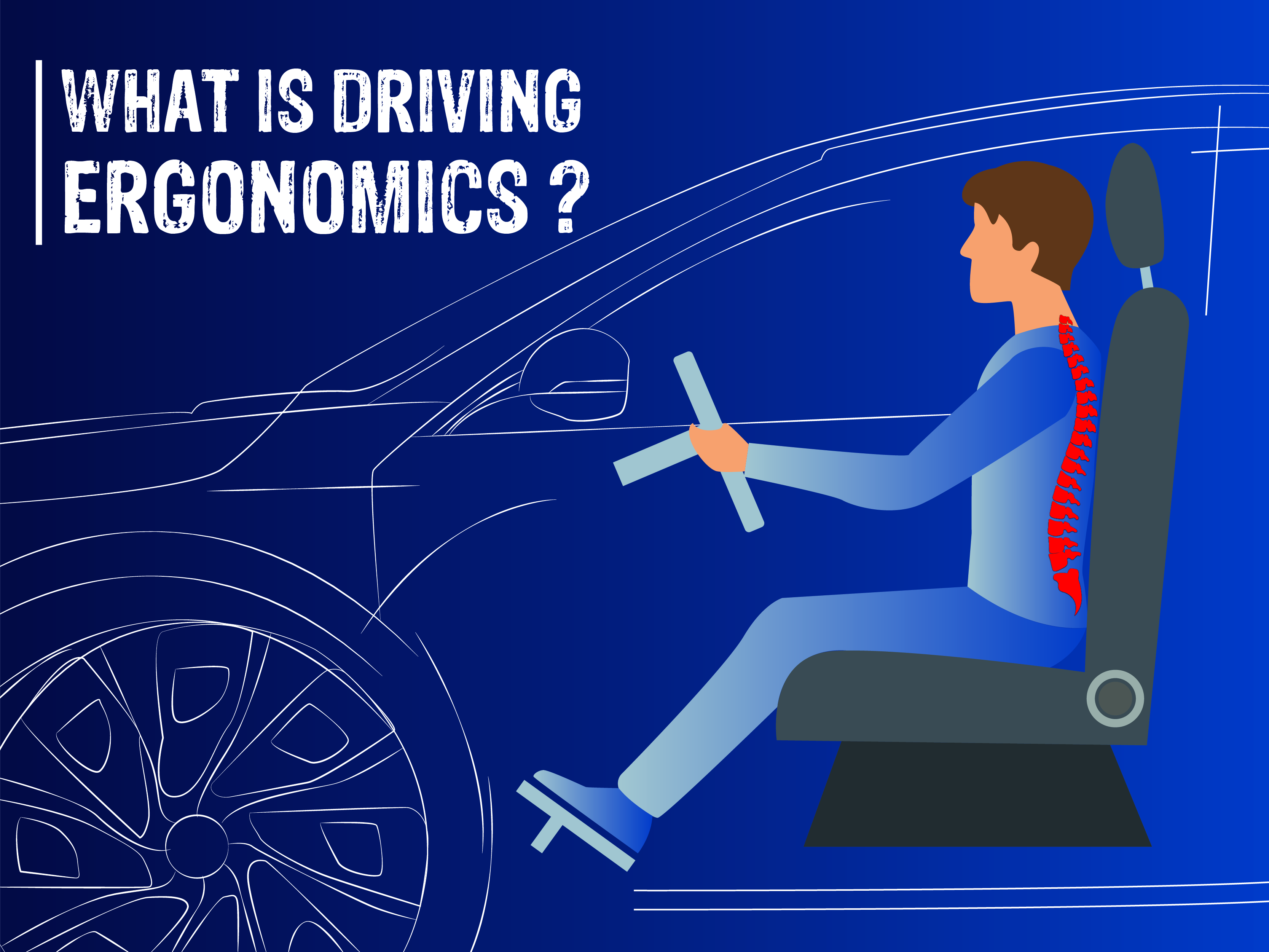 Driving Ergonomics
Most drivers possess a degree of understanding of the danger and risk while driving, mainly resulting in accidents and injuries. An alarming total of accident statistics shows that 837,695 reported accidents in 2018, a rise of 4.4% compared to 2017's figure of 802,523. Nonetheless, many are not aware of prolonged periods of sitting particularly when sitting in a car can impact movement and vibration on the body. Common complaints from the driver after driving long hours are associated with lower back pain, stiff neck and foot cramp. Benefits coming from implementing driving ergonomics can reduce the stress and strain on the body by making a few adjustments in your vehicles and habits.
WHAT IS DRIVING ERGONOMICS?
"Ergonomics" is the scientific discipline concerned with the understanding of interactions among humans and other elements of a system to optimise human well-being and overall system performance where commonly ergonomics is associated with the office environment. In this context, driving ergonomics is using the same discipline but in the vehicle environment to minimize the impact of injuries to the drivers.
Applying driving ergonomics tips to your driving routine can enhance your comfort and effectiveness during and after your drive.
Seat Adjustment
The seat should be adjusted to a comfortable height and space where you can comfortably reach steering wheel and foot pedals without overstretching your body parts. This will prevent your body part from slouching or overreach from your normal adjustment. Adding cushion can help to increase your visibility and to decrease direct vibration absorption towards your lower back area.
Inclination of the seat can be lowered down within 90º to 110º to minimize the pressure between vertebrae and lower back. However, leaning more than 110º may cause extensive flexion on your neck and lower back area.
Advisable for steering wheel to be at the range of 0º to 63ºfor your shoulders to remain relaxed and elbow angle around 95º to 120º for optimum driving precision. It helps by preventing too much force onto chest muscles resulting in fatigue and posture problem.
Lumbar Support
Either in the office environment or in a vehicle, a good posture is the most important component to prevent lower back pain. Many drivers experienced lower back pain due to long hours of driving. Seat with lumbar support helps to maintain neutral spine position provided if you are positioning the support at the right position; at your inner curve of lower back For cars does not offer adequate support, an alternative such as lumbar pillows can be attached to your seat for optimum support.
Another ergonomics tips on keeping a good posture is to avoid sitting on your wallet. This may cause discomfort at lower back area such as hips and waist eventually.
Adjust Mirror
After another adjustment has been made to suits your comfortable body position, the next step is to position mirror angles to give optimal rear visibility. These adjustments are vital to avoid any awkward body movement due to limited visibility and to prevent interruption towards your driving performances.
Rest Breaks
Despite maintaining a good posture during driving, your body still will get tired over a fixed position. It is advisable to take a break and stretch at least every two hours to allow your blood flow circulating while relaxing muscles. During these breaks, some stretches and walking might relieve blood flows circulations after remained at the same position over hours and minimize pain and body discomfort.
Give your body a 5 minutes break lifting heavy items as soon as you stop driving to prevent dizziness or body imbalance after maintaining at the same position for long hours.
Ensure to practice a proper manual handling technique when unloading items out from the vehicle.
As much as we focusing to create a safer environment at the workplace, it's crucial to take proactive measure when it comes to driving. Driving ergonomics intervention is to enhance your comfort without disregard your efficiency during driving.


By Syafiqah Nazifa
Safetyware EHS Consultancy Sdn. Bhd.


Plot 237,
Lengkok Perindustrian Bukit Minyak 3,
Bukit Minyak Industrial Estate,
14100 Simpang Ampat, Penang, Malaysia.
Call Us :
Tel : +604-5023 882 (8 lines)
Toll Free : 1300-22-3882