Posted By: Yee Swat | Mar 15, 2021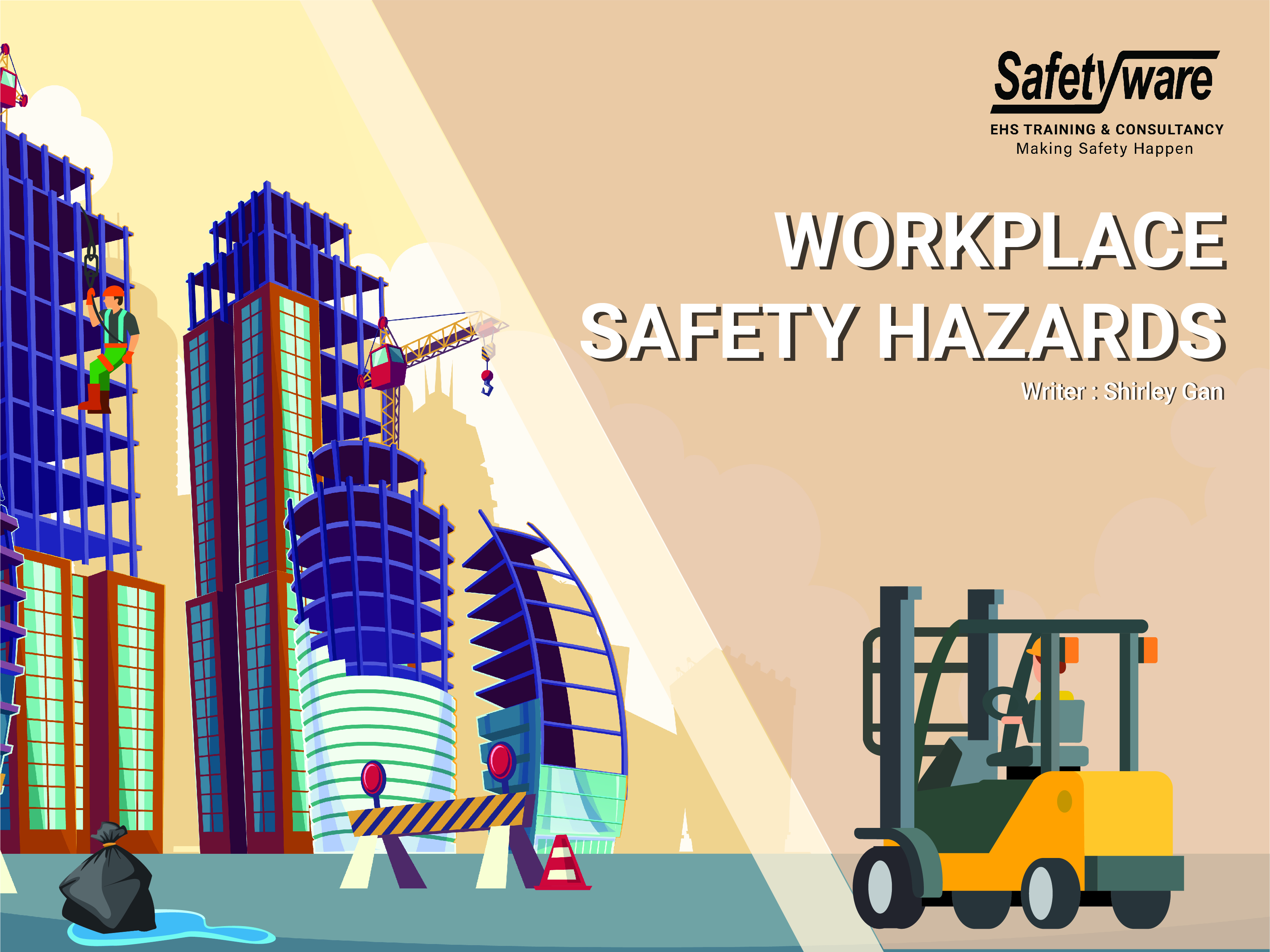 Understanding Occupational Accident: Workplace Safety Hazards
Occupational Accidents and Hazard
Recently, a rising trend in occupational accident reports to the Department of Occupational Safety and Health (JKKP) has become a serious issue in Malaysia. Most of the cases contributed by the manufacturing sector. Occupational accidents can lead to serious consequences; this includes non-permanent disability, permanent disability or even death. Theoretically, occupational accident always relates to workplace safety hazards. According to International Labour Organization (ILO), hazard defines as "the inherent potential to cause injury or damage to people's health". A safety hazard is an unsafe working condition that can cause injury, illness and death. Safety hazards are the most common workplace risk. Risk defined as chance or probability that a person will be harmed or experience an adverse health effect if exposed to a hazard. Therefore, risk is the likelihood of hazard and exposure.
Figure 1: Number of cases of occupational accident from 2015 to 2020.
Source: Department of Occupational Safety and Health, Malaysia.
Common workplace safety hazard
Working at height
Working at height is one of the most common job requirements across many sectors, no matter household application or even construction area. Work at height means that an individual that at the workplace requires necessary precautions to prevent them from falling at a distance, resulting in serious injury. Recently, a worker died after being stuck from lighting and fell from a 12-foot-high workplace. This shows that working at height becomes one of the biggest causes of fatalities and major injuries. Therefore, we must assess the risk before we work at height to avoid any unfortunate accidents from happening. Be sure to follow the guidelines set by your company and government.
The Do's and Don'ts of working at height
DO as much work as possible from the ground.
DO ensure workers can get safely to and from where they work at height.
DO ensure equipment is suitable, stable and strong enough for the job, maintained and checked regularly.
DO take precautions when working on or near fragile surfaces.
DO provide protection from falling objects.
DO consider emergency evacuation and rescue procedures.
DON'T overload ladders where workers working at height, with equipment or material.
DON'T overreach on ladders or stepladders.
DON'T rest a ladder against weak upper surfaces, such as glazing or plastic gutters.
DON'T use ladders or stepladders for heavy tasks, only use them for light work of short duration, with a maximum of 30 minutes at a time.
DON'T let anyone who is not competent, especially those who does not have the skills, knowledge and experience to perform work at height
Poor housekeeping
Housekeeping is a foundation for safety workplaces, especially in incidents and fire prevention. The unsafe condition due to poor housekeeping is often a factor that contributes to an occupational accident. In addition, poor housekeeping can present hidden hazards that may cause incidents, including tripping on loose objects in walkways, being hit by falling objects, and slipping on wet or dirty surfaces. Hence, good housekeeping helps to reduce the risk of workplace safety.
The Do's and Don'ts for housekeeping
DO return the tools or materials when finished using and clean up anything that is left sitting on work surfaces or floors.
DO ensure that all walkways are free of obstructions such as materials, tools, or wires that could cause someone to trip or fall.
DO ensure that fire extinguishers and sprinkler system are not blocked by equipment or material.
DO remove any cords or cables in walking areas.
DO dispose oily rags in covered metal containers, where the containers need to be empty on a regular basis.
DO ensure all spills are immediately cleaned up.
DO replace worn, ripped and damaged flooring and place anti-slip flooring in areas that cannot continually be cleaned, such as an entrance.
DO keep aisles and stairways clear; install warning signs and mirrors to help improve sightlines in blind corners.
DON'T stack material to a height where it becomes unstable and might fall.
DON'T use damaged tools, but do regularly inspect, clean and repair all tools.
DON'T leave garbage hanging around and trash should be taken to a dumpster at the end of the shift.
How to prevent workplace safety hazards
In a nutshell, identifying workplace safety hazards should become the priority of employers and employees. This helps to reduce the risk in the workplace and to avoid lost time injury. Hence, there are various ways to prevent workplace safety hazards. First, conduct a workplace risk assessment to identify and to reduce or eliminate workplace safety hazards. Next, provide training for employees on safety protocols. The appropriate training helps to raise safety awareness among them. Third, record and review the workplace safety hazards annually at a minimum to control the risk of hazards.
Legal compliance
Working at Height
Occupational Safety and Health Act 1994
- Part IV Section 15 – General Duties of Employers and Self-Employed Persons
- Penalty: Fine not exceeding RM50000 OR imprisonment for a term not exceeding two years OR both
Factories and Machinery (Safety, Health and Welfare) Regulations 1970- Regulation 12 – Working at Height
Forklift
1. Occupational Safety and Health Act 1994
a) Part IV Section 15 – General Duties of Employers and Self-Employed Persons
- Penalty: Fine not exceeding RM50000 OR imprisonment for a term not exceeding two years OR both

b) Part VI Section 24 – General Duties of Employees
- Penalty: Fine not exceeding RM1000 OR imprisonment for a term not exceeding three months OR both
c) Part VI Section 25 – General Duties of Employees
- Penalty: Fine not exceeding RM20000 OR imprisonment for a term not exceeding two years OR both
2. Factories and Machinery Act 1967
a) Part III Section 26 – Person in Charge and Certificates of Competency
3. Road Transport Rules 1959
Need Help?
Keeping workplace in a safe and comfort environment requires diligence preventive measures. Now you have learned a few steps to reduce workplace safety hazards. If you concern about these issues, we do provide EHS training including Working at Height, OSH Awarness, and Forklift Safety Training. In Safetyware EHS Consultancy Sdn Bhd, we making safety happen.
By Shirley Gan Xie Li
Junior EHS Consultant Cum Trainer
Plot 237,
Lengkok Perindustrian Bukit Minyak 3,
Bukit Minyak Industrial Estate,
14100 Simpang Ampat, Penang, Malaysia.
Call Us :
Tel : +604-5023 882 (8 lines)
Toll Free : 1300-22-3882