Ways to Prevent Stress in Your Workplace
POSTED DATE | 16 AUGUST 2018
Workplace stress can occur when there is a mismatch between the requirements of the role, your capabilities and resources and supports available. The stressed workers were found to have lower heart rate variability and increased levels of cortisol, which can damage heart and blood vessels. Adjusting for lifestyle factors did not impact the relationship between stress levels and cardiovascular health. Here are 8 ways to help you reduce stress :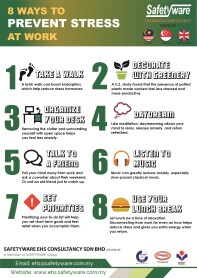 Plot 237,
Lengkok Perindustrian Bukit Minyak 3,
Bukit Minyak Industrial Estate,
14100 Simpang Ampat, Penang, Malaysia.
Call Us :
Tel : +604-5023 882 (8 lines)
Toll Free : 1300-22-3882