The Importance of Office Ergonomics
POSTED DATE | 07 APRIL 2017
Office ergonomics is certainly more than chairs. It helps you to be more comfortable at work. It focuses on how things are set up in your office work space such as your workstation setup, how you sit and how long you stay in one position.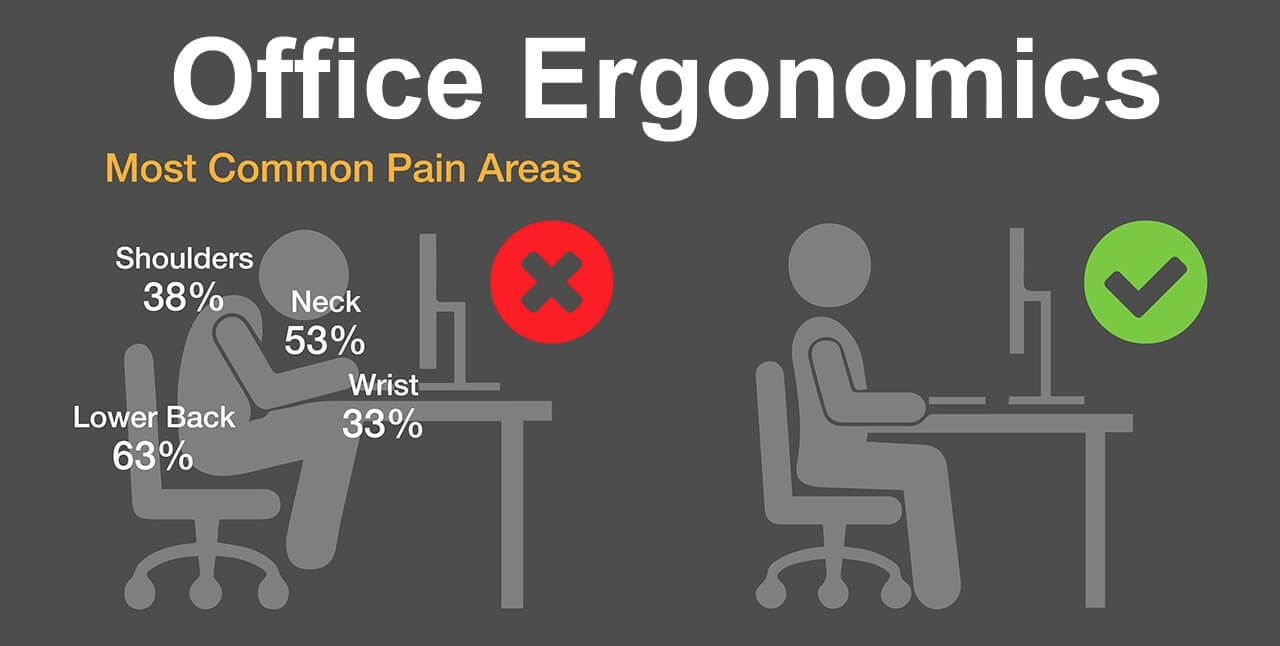 The result of a research has shown that effective ergonomics interventions on average reduce the number of Musculoskeletal Disorders (MSD) by 61%, reduce lost workdays by 88% and reduce staff turnover by 87%. This indicates that the innovation of office ergonomics is able to resolve issues with more than 50% assurance. It is imperative for employers to play their role in establishing this kind of environment in the workplace in order to encounter issues such as high turnover, employers' health and well being and productivity. Thus, there are three important points of having office ergonomics:
Office ergonomics reduces costs
When it comes to injury, basically there are two types: non-accidental injury and accidental injury. Non-accidental injury refers to injuries caused by repetitive actions or activities for example sitting in an office chair within a certain period without any motions will lead to MSD that affects human's muscles, tendons, ligaments, nerves and bloods. Whereas accidental injury refers to injuries caused by unintended accidents happen in the workplace. For instance lifting heavy goods that might cause serious back pain, joints injury, shoulder pain or even physical damaged. It is stated that 1 out of 3 workers compensation cost attributed to MSD. Thus, by having office ergonomics, the organization is able to reduce medical costs and compensation and focus on more important affairs.
Office ergonomics enhances productivity
Having a poor office ergonomics will lead to frustration of workers in dealing with heavy workloads. This eventually will lessen the quality of work and performance overall. For instance, workers need to stand within a long period in order to complete a job. If they were not occupied with necessary ergonomics attire or working condition, this will lead to fatigue and bad performance of them. However, when workers feel comfortable and confident to work in a good office ergonomics, they will perform well and enhance better productivity. This simultaneously will lead to better quality of work and improve the engagement between employers and employees.
Office ergonomics creates better working environment
A good office ergonomics shows the commitment of employers in preparing a healthy and safe work culture for employees. After all, healthy employees are assets to the organization in producing better job performance and productivity. As the sayings goes, 'it takes two to tango', employers must see the innovation of office ergonomics as a long term investment regardless the costs that they have to endure in getting better returns in the future.
Thus, it is important for an organization to install office ergonomics in order to instill great working spirit within the workers. Creating and fostering healthy and safe working environment should be a mantra for any employers. This eventually will lead to better worker's performance and well being at your organization.
Plot 237,
Lengkok Perindustrian Bukit Minyak 3,
Bukit Minyak Industrial Estate,
14100 Simpang Ampat, Penang, Malaysia.
Call Us :
Tel : +604-5023 882 (8 lines)
Toll Free : 1300-22-3882